SAINT CHARBEL MAKHLOUF:
THE LEBANESE SAINT
WHO HAS BECOME A LEGEND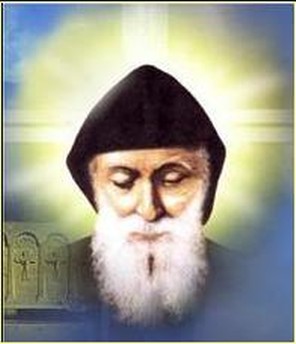 Charbel Makhluf was a Maronite monk who was proclaimed to be a saint by Pope Paul VI in 1977, and whose existence was full of miraculous events which are still occurring today. Saint Charbel is even more active in death than in life.
Charbel was ordained priest in 1859, and was sent to St. Maron monastery at Annaya (Lebanon), a convent which belongs to the Lebanese Maronite Order. where he lived as an exemplary monk for 16 years. His admirable virtues and legendary obedience, which was defined as "more angelic than human," quickly earned him fame of sainthood.
In 1875 Charbel obtained permission to retire to the hermitage of Sts. Peter and Paul which is associated with the monastery of Annaya. He was to spend the most intense period of his life, till his death, at this place. He prayed incessantly and remained kneeling for hours before the tabernacle.
One day a bolt of lightning struck the hermitage and set the hem of his cloak and the altar-cloth on fire, but Fr. Charbel was so immersed in prayer that he didn't even notice.
The miracles and extraordinary events began when Charbel was a monk at Annaya.
One of his co-brothers once declared, "Everything one reads in the biographies of the saints is inferior to what my eyes have seen Father Charbel do".
Fr. Charbel died on Christmas Eve of 1898, and was buried on the following day in the monastery graveyard. Shortly afterwards a brilliant and mysterious light, which illumined the whole valley, began to shine from his grave. This was before the advent of electric lights, so the spectacle was breathtaking to those who witnessed it. From that moment, the miracles wrought through Fr. Charbel's intercession increased beyond measure. Fr. Charbel's fame was beginning to draw large crowds, and the monks decided to transfer the body in a new tomb inside the monastery. When they opened the tomb, they found that the body was still soft and incorrupt, like that of a sleeping man. A reddish and viscous liquid emanated from the pores of his skin, similar to the plasma that oozes out of the wounds of a living body, and this liquid was found to possess miraculous powers. This wholly inexplicable phenomenon lasted for 79 years, that is, right until the year of Fr. Charbel's canonisation in 1977.